Regatta Recap
By J/24 Fleet 8
It was another fantastic fall weekend of racing in Annapolis for the J/24 East Coast Championship & J/22 Mid Atlantic Championship. Teams traveled from Nova Scotia to Florida to join in on the fun this weekend and for the top competition in both classes. 24 J/24 teams raced Friday – Sunday, joined by 24 J/22 teams Saturday & Sunday.
On Land Festivities
We???ll get to the action on the water in a moment ??? the highlight on land was the Saturday evening dinner & dance party! Starting at 1800, over 180 J sailors enjoyed dinner by Annapolis Smokehouse under the tent. Shortly afterward The Shatners, an ultra-popular Annapolis cover band got going, as did the flip-cup challenge between the 24s & 22s. The crowd demanded two encores of the band before they finally allowed them off the stage!
When sailors came off the water Saturday, the beer truck was their first stop, then on to the racing recap organized by North Sails Mike Marshall. Mike brought together a cohort of world class sailors, including Allan Terhune, Willem van Waay, Cory Sertl & Matt Schubert. The breeze was in the mid-teens all day so the focus was on rig settings, steering in waves, and determining how to pick the favored side.
Travis Odenbach from Quantum Sails led the Friday dock talk, which also included professional sailor Willem van Waay, Mike Coe from Quantum, and Even Petley-Jones from Halifax, NS. In addition to discussing rig settings & depowering techniques, Willem van Waay gave the crowd an advanced course on using the ProStart! Meanwhile, Lyon distilling was mixing their special rum into Dark & Stormys, and the crowd was enjoying oyster shooters & two hot soup offerings.
On The Water Recap
Friday and Saturday brought classic fall Chesapeake Bay top-end of the genoa conditions with big waves and chop. In those technique intensive conditions, Mark Hillman, Travis Odenbach and Tony Parker collected 21 of the 24 available top three finishes over eight races. The consensus from these teams was that lots of twist, minimizing helm movements and infrequent tacking seemed to be the three top components to upwind success. By Saturday evening, 8 of the 9 races scheduled were in the books, led by Principal Race Officer, Juliet Thompson.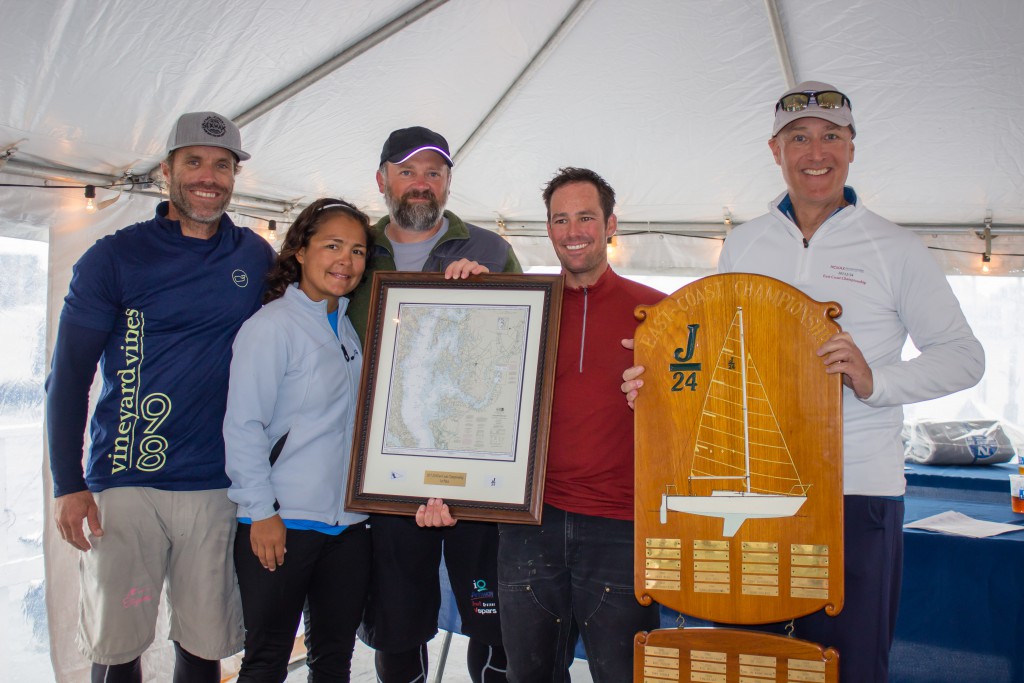 Pictured left to right: Willem van Waay, Monica Morgan, James Bonham (owner), George Peet, Mark Hillman (skipper). Photo credit: Luke Pelican
The final race, on Sunday, featured wind speeds of 3 to 10 knots, with wind directions ranging from Northerly to Southeasterly. Despite the hazards inherent in these conditions, the final results were little changed.
Results
Now, on to the best part???the awards! J/24 Class veteran Stu Challoner and his team on Spoilsport captured the top Corinthian Award with a strong 5th place finish. Fleet 8 Captain Pat Fitzgerald & the Rush Hour team finished 4th. Past winners Travis Odenbach and the Honey Badger team took 3rd and Tony Parker and the Bangor Packet team took 2nd place.
Finally, congratulations to our 2017 J/24 East Coast Champions ??? Mark Hillman, James Bonham, Willem van Waay, Monica Morgan and George Peet on SISU!
Thank You Sponsors!
A big thank you to our Gold sponsors The Rigging Company & Tony Parker???s Parker-Tide for their financial support. Stacey E. Andersen Law continued to support the event as a Silver sponsor this year. And our Bronze sponsors included Hillman Capital Management, FitzGerald Design Build, and Boatyard Bar & Grill. Thank you to North Sails, Quantum Sails, APS, Charm City Meadworks and Lyon Distilling for their in-kind contributions to the regatta.
As the teams packed-up their boats, much of the conversation revolved around how much fun was had & how enjoyable the fall racing in Annapolis was. Mark your calendar for 2018 J/24 East Coast Championship ??? Oct. 26-28 in Annapolis!
Results:
http://j24eastcoastchampionship.com/?page_id=15
Friday Photos:
https://lukepelican.smugmug.com/J24-East-Coast-Championship-Day-1/
Saturday Photos:
https://lukepelican.smugmug.com/J24-ECC-Day-2–J22-Mid-Atlantic-Day-1/
Featured Photos: